"Mary"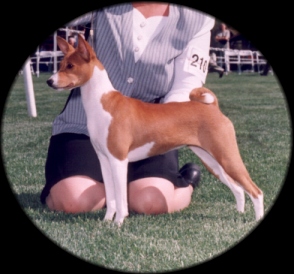 Am & Aust Ch Sukari-Jasiri Mary Puppins
(Ch Sukari's Spot The Target CD x BIS, BISS Ch Jasiri's Jurassic Bark JC)
DOB: 12-12-98
Mary is fifth generation Jasiri-Sukari.
She finished her Championship at just 7 months old.
She left us on October 1st, 1999 and traveled to Australia
where she lives with her new owner, Jan Robert of Tamsala Basenjis.
We have no doubt that Mary will bring Jan as much pleasure as she brought to us.
---
MARY'S PEDIGREE


| | |
| --- | --- |
| | Ch Sukari's Spot The Target CD |
| | |
| --- | --- |
| | Ch Bojak's Undercover Kojak |
| | |
| --- | --- |
| | Ch Pendragon Sugarbabe of Kazor CDX, Fch |
| | |
| --- | --- |
| | BISS Pendragon's Little Bit |
| | |
| --- | --- |
| Aust & Am Ch Sukari-Jasiri Mary Puppins | |
| | |
| --- | --- |
| | Ch Serengeti Cool Jazz of Woz |
| | |
| --- | --- |
| | Dual Ch Sukari's Steven Spielbark CD, MC |
| | |
| --- | --- |
| | Ch Sukari's Mindiana Jones CD, Fch |
| | |
| --- | --- |
| | BIS, BISS Dual Ch Jasiri's Jurassic Bark MC |
| | |
| --- | --- |
| | Ch Jerlin's General Patton |
| | |
| --- | --- |
| | Ch Jasiri's General Delivery |
| | |
| --- | --- |
| | Ch Jasiri-Sukari Jess Be-Kaus JC |
---