"Millie"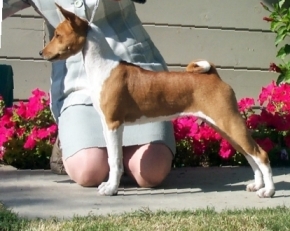 Am, Fr, Dan, Lux, Pol & World Ch Jasiri-Sukari Vermillion
(Ch Meisterhaus Politically Correct x Ch Sukari-Jasiri Soda Pup)
DOB 12-02-04

At 9 months old, Millie had 11 points and a major,
and has already won a Best of Breed from the classes.

She was 2nd in her Sweepstakes class of 15 at the National Specialty under breeder Mrs Patricia Cembura
and was 1st in the 9-12 puppy class of 19 under Mrs Ann Rogers Clark.

Millie completed her Championship at 10 months of age
by earning a 5 point major (in a supported entry)
at the Del Valle Dog Club of Livermore show on October 24, 2005.

The following weekend, Millie won Best of Breed and GROUP 1st
at the Riverside KC dog show.

Millie started off her show career in France with 2 Youth Group 1 wins in her first 2 shows!
She completed her French Championship at 18 months old,
earning several Best of Breeds & Group First wins and a Reserve Best In Show!

Her 1st trip to Denmark netted her 3 CACs, 3 CACIBs, 4 Best Bitch wins,
2 Best of Opposite wins, 2 Best of Breed wins and ome 3rd place in Group 5.
Millie completed her Danish Champion on this trip, making her a CHampion in 3 countries!

In November 2006, Millie was Best of Breed at THE WORLD SHOW in Poland.
Millie earned her Polish Championship and became World Champion!

In June 2010 Millie earned back to back Group Firsts in France and an All-Breed Best In Show!!


Millie pictured at 12 weeks old


Millie CERF'd with minor PPM
She is DNA tested Clear of HA
All other Health Testing will be done in France

---
| | |
| --- | --- |
| | Dual Ch Jasiri-Sukari Juri Maguire MC, LCX II |
| | |
| --- | --- |
| | Ch Undercover Bojak's Caitlan |
| | |
| --- | --- |
| | Ch Meisterhaus Politically Correct |
| | |
| --- | --- |
| | Ch Bojak's Undercover Kojak |
| | |
| --- | --- |
| | Ch Undercover Natural Grace |
| | |
| --- | --- |
| | Ch Bojak Abbai Kosa Mjinga |
| | |
| --- | --- |
| Am/Fr/Dan/Lux/Pol & World Ch Jasiri-Sukari Vermillion | |
| | |
| --- | --- |
| | Ch Sukari's Spot The Target CD |
| | |
| --- | --- |
| | BIF Dual Ch Jasiri-Sukari Juri Seinfeld MC |
| | |
| --- | --- |
| | BIS, BISS Dual Ch Jasiri's Jurassic Bark MC |
| | |
| --- | --- |
| | Ch Sukari-Jasiri Soda Pup |
| | |
| --- | --- |
| | Ch Sukari's Spot The Target CD |
| | |
| --- | --- |
| | Ch Jasiri-Sukari First In Lines CD |
---
last update Oct '06