"Rags"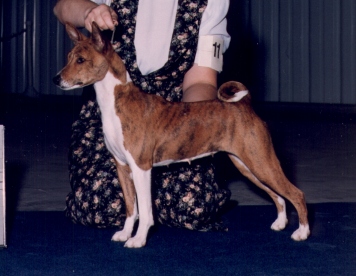 Ch Jasiri-Sukari First In Lines CD
(Ch Ebonwind Justly O'Fantasia x Ch Jasiri-Sukari Jess Be-Kaus JC)
12/09/93 - 09/16/09
.

Rags was the first brindle born at Jasiri & Sukari (hence her name!)
She had and produced an excellent temperment and a wonderful yodel!
She was another of our top producers, with 11 Champion off-spring to date.

Her first time in the obedience ring, Rags was High In Trial at the
Basenji Club of Southern California Specialty.
She repeated the feat by taking High In Trial at the BCOSC Specialty
again the following year - her second time in the Obedience ring.
She finished her Companion Dog title the next by earning 1st place
in the Novice B class at the Western Hound Assoc of So Cal all Hound show.
Rags died at 15 1/2 years old of old age.
BABY RAGS - SHE'S ABOUT 9 WEEKS OLD IN THES PHOTOS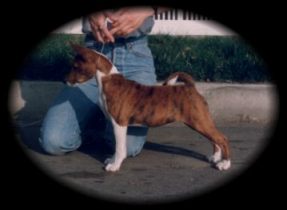 Rags is CHIC certified with the OFA (#21992)

Her hips were OFA Good
She CERF'd with clear eyes at 14 years old
She was DNA tested clear of Hemolytic Anemia
Her Thyroid tested Normal
Her AKC DNA Profile is #V60335
She strip tested negative for glucose


VIEW RAGS' OFA TEST RESULTS PAGE

---
| | |
| --- | --- |
| | Ch Fantasia's Faith In Fantasy |
| | |
| --- | --- |
| | Ch Ebonwind's Justly O'Fantasia |
| | |
| --- | --- |
| | Ch Sonbar's Celestial Grus |
| | |
| --- | --- |
| | Ch Klickitat's Sheza Lulu |
| | |
| --- | --- |
| Ch Jasiri-Sukari First In Lines CD | |
| | |
| --- | --- |
| | Ch Sonbar's Celestial Gemini |
| | |
| --- | --- |
| | Ch Sonbar's Celestial Kaus |
| | |
| --- | --- |
| | Ch Jasiri-Sukari Jess Be-Kaus JC |
| | |
| --- | --- |
| | BISS Ch Kazor's Dandy Deerstalker |
| | |
| --- | --- |
| | Ch Sukari's Mindiana Jones CD, Fch |
| | |
| --- | --- |
| | Ch Pendragon Sugarbabe of Kazor CDX, Fch |
---