"Seinfeld"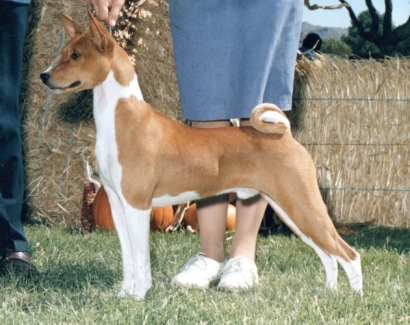 mBIF Dual Ch Jasiri-Sukari Juri Seinfeld MC
(Ch Sukari's Spot The Target CD x BIS, BISS Dual Ch Jasiri's Jurassic Bark SC)
12-12-98 - 03-10-14


Seinfeld did quite well in the show ring,
completing his Championship with 4 majors at just one year of age.
He retired from the show ring to live a life of leisure in Nevada.

His son, Timmy, followed in his father's footsteps - having acquired 3 majors in his first 5 shows.
At just 2 years old, Timmy finished 2001 as the number three Basenji in the USA.

Seinfeld also tore up the coursing field.
In his first run with competition, Seinfeld won a 5 point major
and was BEST IN FIELD at All Breed trial.
He completed his Senior Courser and Field Championship titles with ease.
He also earned a Master Courser title.

Seinfeld celebrated the anniversary of his BEST IN FIELD by doing it again!
65 hounds competing, 8 breeds running for Best In Field and Seinfeld took it again!

Seinfeld died at 15 years old due to complications of old age.
He will never be forgotten...

---

Seinfeld is CHIC certified with AKC and the OFA
Seinfeld's Hips are OFA Excellent
He tested as a Fanconi Carrier
He CERF'd with clear eyes in 2013
He is PRA Normal
He is DNA tested Clear of Hemolytic Anemia
His thyroid tested OFA Normal




VIEW SEINFELD'S OFA TEST RESULTS PAGE

---
| | |
| --- | --- |
| | Ch Sukari's Spot The Target CD |
| | |
| --- | --- |
| | BISS Ch Kazor's Dandy Deerstalker |
| | |
| --- | --- |
| | Ch Pendragon Sugarbabe of Kazor CDX, Fch |
| | |
| --- | --- |
| | BISS Pendragon's Little Bit |
| | |
| --- | --- |
| mBIF Ch Jasiri-Sukari Juri Seinfeld MC | |
| | |
| --- | --- |
| | Ch Serengeti Cool Jazz of Woz |
| | |
| --- | --- |
| | Dual Ch Sukari's Steven Spielbark CD, MC |
| | |
| --- | --- |
| | Ch Sukari's Mindiana Jones CD, Fch |
| | |
| --- | --- |
| | BIS, BISS Dual Ch Jasiri's Jurassic Bark MC |
| | |
| --- | --- |
| | Ch Jerlin's General Patton |
| | |
| --- | --- |
| | Ch Jasiri's General Delivery |
| | |
| --- | --- |
| | Ch Jasiri-Sukari Jess Be-Kaus JC |