"Steven"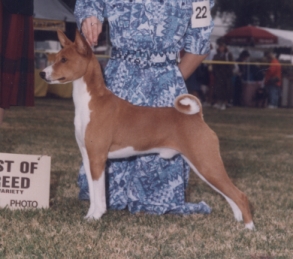 Dual Ch Sukari's Steven Spielbark CD, MC
(Ch Serengeti Cool Jazz of Woz x Ch Sukari's Mindiana Jones CD, Fch)
11-27-89 - 04-11-06

Steven finished his Championship at 9 months old with 4 majors including Winners Dog at
The 1990 BCOA National Specialty (from Bred-By) - his second 5 point major -
and 2 Best of Breed wins from the classes over top ranked specials.
He was Best of Opposite in Sweepstakes at the 1990 BCONC Specialty the day before the National.

Steven hit the lure coursing field at 11 years old
obtaining both his Junior and Senior Coursing titles.
At the ripe old age of 12, Steven earned his Field Championship.
Steven went on to finish his Master Courser title 3 months after his 13th birthday!!
We believe Steven is the oldest Basenji to earn this title.

Steven has also proven himself as a sire and is another of our top producers.
To date he has sired four Top Ten Specials;
Ch Zuri's Korija
Ch Sukari-Jasiri Howl Pachino SC
Ch Jasiri's Parker Steven-Son
and
Dual Ch Jasiri's Jurassic Bark SC
who was also an all-breed Best In Show winner
Steven also sired Specialty winners, Group winners and Sweepstakes winners.
| | |
| --- | --- |
| Steven had, and produced, an easy, open side-gait. | |
| | |


Steven is CHIC certified with AKC and the OFA (# 21991)

Steven's Hips are OFA Excellent
He CERF'd with clear eyes in 2005 (15 yrs old)
He was DNA tested Clear of Hemolytic Anemia
His thyroid tested Normal
He strip tested negative for glucose for his entire life

VIEW STEVEN'S OFA TEST RESULTS PAGE
| | |
| --- | --- |
| | Ch Shantara's Gentaa Snowflurry |
| | |
| --- | --- |
| | BIS, BISS Ch Music City Serengeti Jazzman |
| | |
| --- | --- |
| | Ch Serengeti Brazen Bantu |
| | |
| --- | --- |
| | Ch Serengeti Cool Jazz of Woz |
| | |
| --- | --- |
| | Ch Serengeti Tri-Tan Morocco |
| | |
| --- | --- |
| | Ch Serengeti Scarlet Sage |
| | |
| --- | --- |
| Dual Ch Sukari's Steven Spielbark CD, MC | |
| | |
| --- | --- |
| | BIS, BISS Ch Aleika-Absinthe Rajah's JR |
| | |
| --- | --- |
| | BISS Ch Kazor's Dandy Deerstalker |
| | |
| --- | --- |
| | Ch Sukari's Mindiana Jones CD, Fch |
| | |
| --- | --- |
| | BISS Ch Kazor's Dandy Deerstalker |
| | |
| --- | --- |
| | Ch Pendragon Sugarbabe of Kazor CDX, Fch |
| | |
| --- | --- |
| | BISS Pendragon's Little Bit |
---